Steam is the latest PC game service to be offered on television. This means that you can now play games like CS:GO, Dota 2 and Skyrim right on your TV instead of just the computer monitor. The new feature also allows for remote play anywhere with a Steam account! Try it out today by playing Rocket League or Overwatch with friends in another room
The "steam link" is a device that allows users to stream their games from their PC to any other device. This includes the TV, Tablet, or Phone. The remote play feature allows users to play on one device while the other watches and plays too.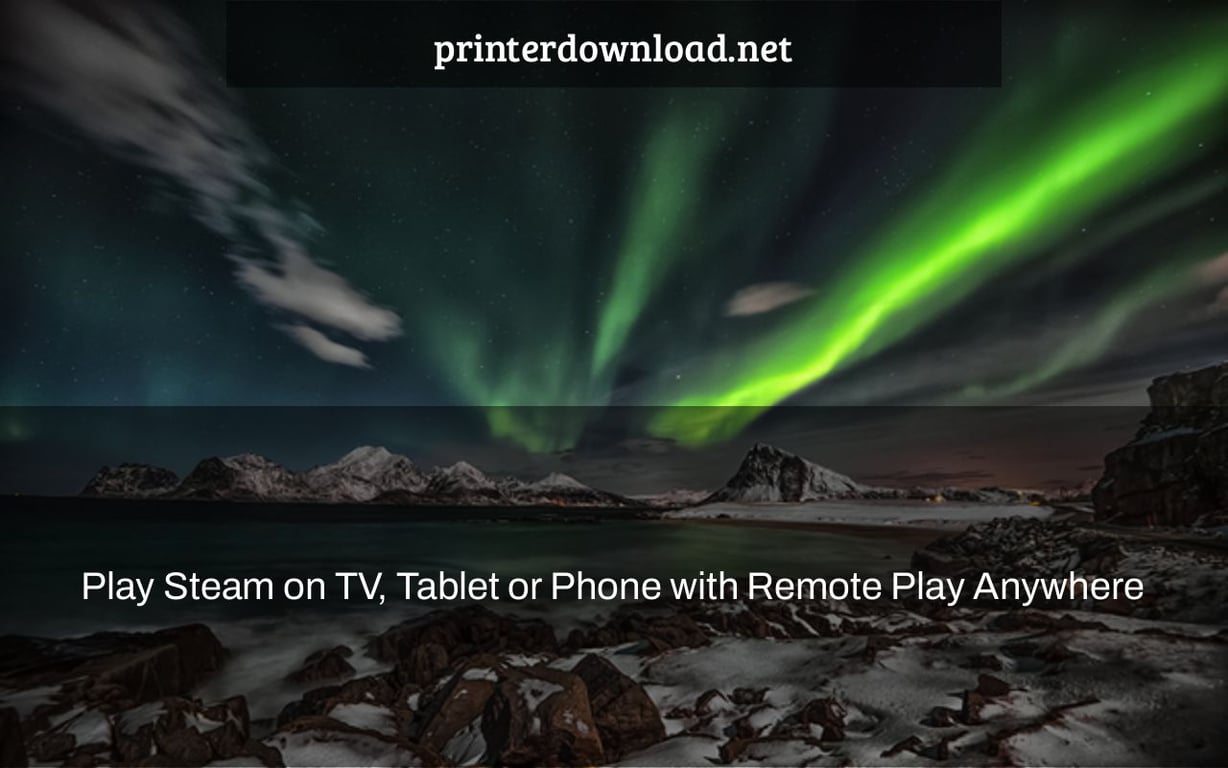 While it is true that games on a PC perform better and are more involved to play than games on consoles, it is also true that playing while sitting at a desk is not as pleasant as playing in front of the television. With a joypad in hand, I sat on the couch. Cloud gaming services such as Stadia or Playstation Now are among the most inventive alternatives for playing PC games on TV, but there are certain limits and membership fees to pay.
However, if you have a capable PC, you will almost certainly have Steam installed, which has a streaming function that allows you to play compatible games on any screen (even your TV or phone).
READ ALSO: How to Download Games on a PC Using Steam
Steam Remote Play Anywhere is a feature that enables you to play video games loaded on a PC from another computer, smartphone, or television.
After that, you can install a game on the PC, link it to the TV through Steam, and play on the large screen while sitting on the couch using a wireless joypad. The most crucial thing is that all computers or cellphones are linked to the same wifi or wired network, and that the Steam Link software, which is available for Android TVs and devices, iPhone, iPad, and Apple TV, Windows, Mac, and Linux, is installed.
Furthermore, owing to this feature, all of the top PC games can now be streamed, even on older systems that may not be able to preserve these installs, as well as on Mac and Linux, where many games are incompatible.
You may play from a different device than the computer where the game is installed after the computers are linked to the network and the Steam program is running and the Steam Link software is loaded on your PC, smartphone, or TV.
How can I get Steam Remote Play to work?
We can simply attempt the Remote Play connection on the TV if we have a PC with Steam installed and an Android TV (or any Android TV Box, or even an Apple TV or a Raspberry). The first step is to download the Steam Link app on your Android TV or any other device you wish to play on. The program may be downloaded through the Google Play store on the Android TV, or from the Remote Play Anywhere website, where you can also download the software as an APK file for Android TV boxes, Raspberry Pi, and iPhone TV.
The games supported by Remote Play may change depending on the device being used, and you can see the game lists for your TV, tablet, or phone on the Remote Play Hub page.
To access Steam on the PC where the games are installed, go to the Shop and click on the Categories link at the top to discover Remote Play games on the left side. Then you may go through the list of games that Remote Play for TV supports and install or buy one of them.
In the list there are also free games, including Destiny 2, Brawlhalla e Halo Infinitywhich are among the best ever and then also eFootball 2022to play football. By launching the Steam Link app on the TV, you will be asked to connect to a PC. The association takes place via a PIN generated on Steam Link, which must be written to Steam on PC by going to Settings> Remote Play. Once done, you can start linking by opening Steam on your TV screen for game selection using your TV remote as well. An optimized Steam interface (called Big Picture) and you will notice how your computer screen is cast entirely on the TV screen (you can't keep Steam in the background while you play, so your PC will stay busy and not usable for other things). The games can be controlled from the joypad connected to the computer or even by connecting a wireless joypad, such as that of the Playstation, directly to the TV.
The games that are tuned for Remote Play operate well and provide a seamless experience. You may also attempt a non-optimized game from your Steam library, albeit the animations were sluggish and the controls weren't ideal in my experience.
If you wish to play a PC game on an Android smartphone or tablet, or an iPhone or iPad, follow the same steps. In this scenario, you may also explore the optimized games from the app's or Steam's specialized list.
Playing together using a remote
The other function of Steam Remote Play is what allows you to play remotely with friendseven if they don't have the game installed. Up to 4 players can be invited to connect to our PC and play the same game togetherstreamed to their screen. The only requirement is that the game is listed among those that support the feature Playing together using a remote. Then just invite the friend or friends who want to play with us, by pressing the invite button on the interface of the Steam program.
Settings for Remote Play
To optimize home streaming of Steam video games some settings should be changed for maximum performance. On the host machine, in the menu Steam -> Settingsto select Remote Play on the left side of the window and, in "Host Options" choose "Advanced Host Options"to enable the hardware coding (which is on by default) and "prioritize network traffic". On the client computer, you can lower the desktop resolution in the same section to improve performance. Going into the advanced options of the client you can get a more accurate control by setting the "Bandwidth limit"set to Automatic by default. Manual options range from 3Mbit / s to 30Mbit / s or unlimited. If you have a fast network with Wireless N or a Wireless AC router, you can choose the higher option. Alternatively, if the streaming game had severe lags and lag, you can try to limit the game resolution always from the advanced client settings.
The "steam remote play together games list" is a feature that allows users to play their favorite Steam games on the big screen, tablet or phone. The list includes all of your installed and recent games.
Frequently Asked Questions
How do I play Steam games on my TV remotely?
A: The easiest and most convenient way to play Steam games on your TV remotely is by using a service like PlayStation Vue.
Can you Remote Play Steam on phone?
A: I am not sure what you mean by this.
Does Steam Remote Play work anywhere?
A: Unfortunately, not on all devices. If you experience issues with Steam Remote play and cant seem to get it working in your environment then please try connecting your PSVR using a wireless connection instead of an ethernet cable.
Related Tags
steam link anywhere
steam link app
steam link download
steam remote play on phone
steam in-home streaming