There is an article on Xiaomi's website that discusses and demonstrates how to bypass the FRP lock screen after unlocking your device. But this method only works when you have a MIUI 12.5 account, so if you are running a custom ROM such as LineageOS or AOSP, then this process will not work for you. This tutorial shows two different methods of removing Google accounts from the phone without using any 3rd party application (only recommended option).
The "redmi note 8 frp unlock tool" is a software that can be used to remove the FRP lock from Xiaomi Redmi Note 8 Pro. It can also be used to bypass the MIUI 12.5 Google Account Removal on the device.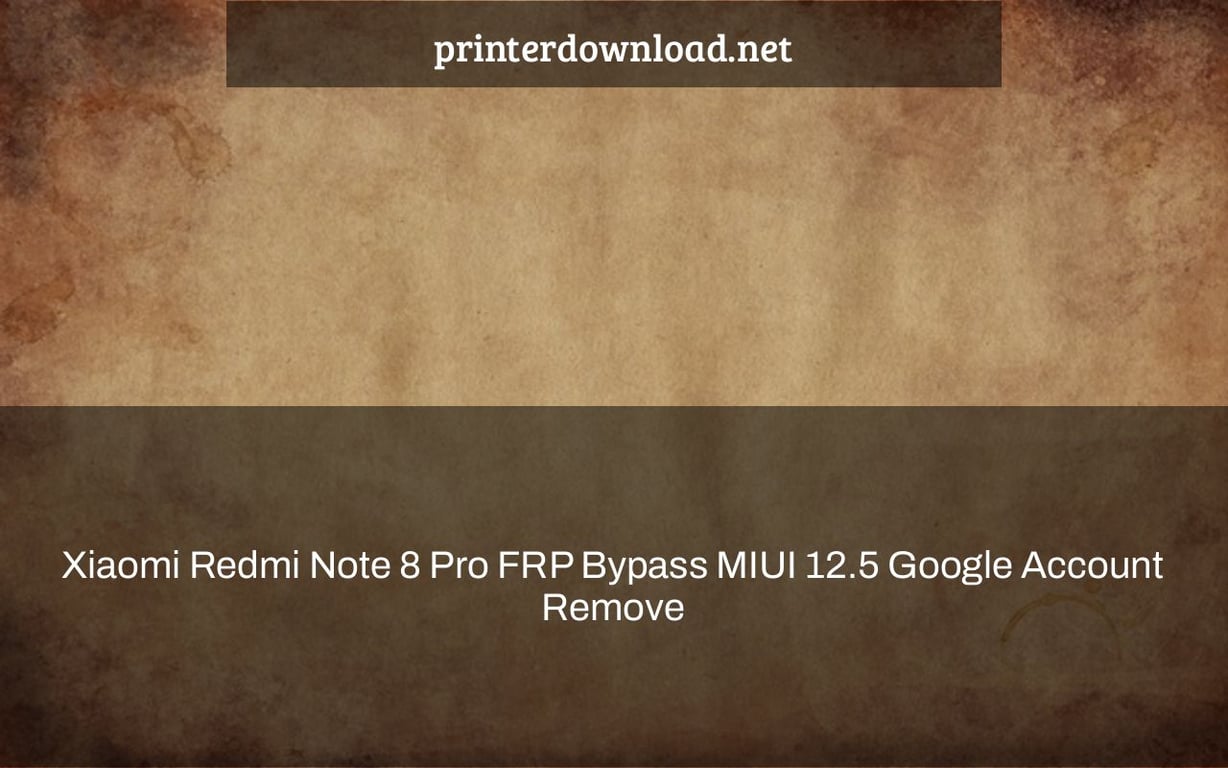 This FRP lock function is included on almost all Xiaomi Redmi Note 8 Pro smartphones. Factory Reset Protection is a new security feature in Google's Android OS. This is an important feature that prevents the gadget from being abused during theft. Some users, however, have gotten themselves into difficulty after forgetting their Google mail or passcode login information shortly after a hard reset. So, in this post, we'll teach you how to bypass FRP and unlock Gmail lock on Xiaomi Redmi Note 8 Pro MIUI 12.5 without a computer by following a few easy steps. In 2022, this post will explain how to bypass the Redmi Note 8 Pro MIUI 12.5 FRP Google Account.
Redmi Note 8 Pro MIUI 12.5 FRP lock
Starting with Android Lollipop, phones running on newer Android OS have had FRP enabled. The process of bypassing Google's FRP in newer Android versions is becoming more sophisticated, with each phone, system, and version having its unique way. The FRP bypass technique is completely free, and you may use any FRP bypass software application that works with your device. We've also included the latest current FRP Bypass APK, which may let you bypass FRP on your Xiaomi with ease.
2022 FRP Bypass Redmi Note 8 Pro MIUI 12.5
The FRP bypass on your Xiaomi is simple to do. You must follow the instructions outlined below.
The ways to bypass the FRP on the Xiaomi Redmi Note 8 Pro are as follows:
Tap Next > select language > Choose your country > Check the I've read and agree > Skip this step > Tap Next > on the wifi connect option, Skip this.
Tap on More > Accept > wait just a sec > Skip > Next > on the setup complete page tap on > Next.
The message "Not signed in." will display on the screen. You must first check in to the owner's Google Account before using this phone." Then choose SETUP PHONE from the menu.
Tap next > choose a language then click on next > now choose your region and tap next. And finally, connect to a WiFi Network.
Scroll down to "Add network" and press it. Write anything in the SSID box, then push and hold it.
After pressing and holding the "Share icon," press and hold the "Gmail App" symbol.
In the app, go to "Notifications" and then "Additional settings."
Select "Help and feedback" from the "three dots" in the right corner.
Open the article "Delete or deactivate applications on Android" by searching for it.
Click on Tap to go to "applications settings" > search "Settings" and then Open it.
Locate and open "Additional settings."
Go to "Accommodation."
Enable "Accessibility Menu Shortcut" after tapping on "Accessibility Menu."
Return to the Android article to uninstall or deactivate the program, and then tap to return to "Application Settings."
Tap to go to "applications settings," then pick "More," then "Show system."
Open "Android Setup" by searching for it. After that, force a shutdown, disable the program, and clear the cache data.
Another Android setup will be available. Clear the cache and Force Stop in the second Android Setup.
Clear storage, Force stop, then deactivate the program after selecting "Carrier Services" (as above).
Then go to "Google Play Services," then "Clear storage," "Force halt," and "Disable app."
Return to WiFi Setup and choose the Next option.
An interface will be shown – Preparing your phone… Just a moment… Checking for new information…
Select Google Assistant from the Accessibility menu Shortcut icon.
"Enable Google Play Services" may be found under "Settings."
Just one more time, press Back, then Skip on Sign in to your MI account.
Skip the Set Password option once again.
On Additional Settings, choose Next, then Skip.
The interface Setup Complete will appear after that. Next, click.
FRP protection on your Xiaomi has been disabled.
Xiaomi FRP Bypass Frequently Asked Questions
Is FRP lock present on all Android phones?
FRP is not available on all Android handsets. The Lollipop Operating Mechanism has been used to build up the FRP lock system. It is not included in the lower operating system versions.
Is it possible to circumvent FRP on my Xiaomi without using a computer?
With or without a computer, you may circumvent FRP on Xiaomi and other Android phones. The aforementioned steps are carried performed without the use of a computer.
Conclusion
Gmail Account Authentication, or FRP, has changed how we access lost-and-found phones in recent Android OS versions; the simple factory reset technique is no longer sufficient to unlock the handset. Anyone who does a hard reset on a lost item but does not have access to the login information for the synced account is effectively locked out. It's simple to circumvent FRP on your Xiaomi and other Android phones, but the login data for your Gmail account will be lost. As a result, caution is advised.
Related Tags
miui 12 frp bypass 2021
redmi note 8